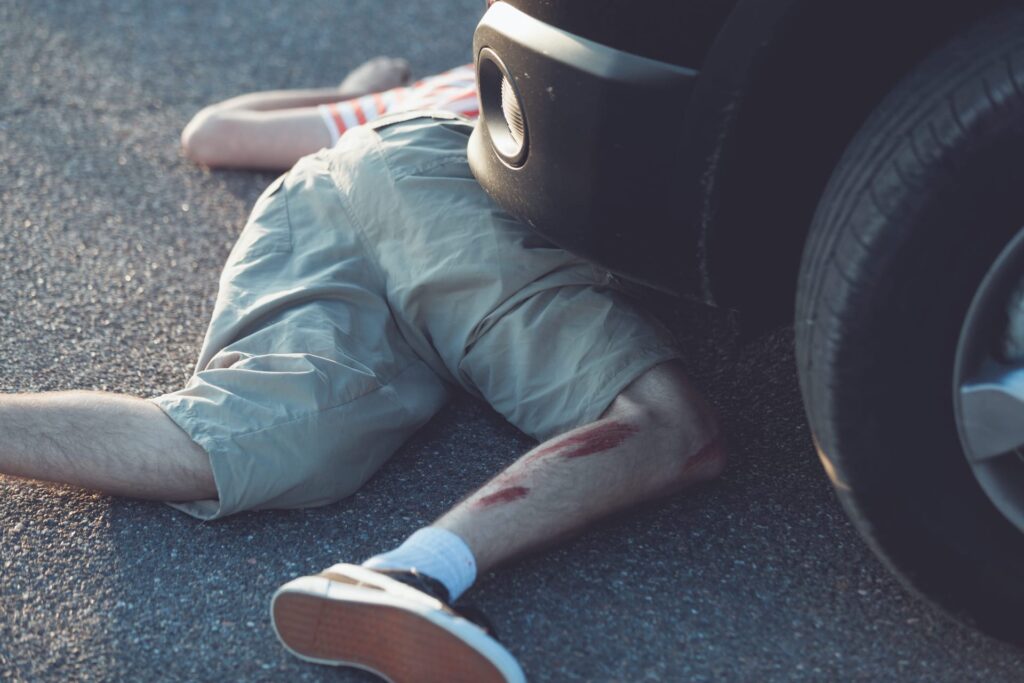 You may feel safe while walking down the street in Stockton, CA. After all, you are not operating a vehicle and you assume that others are following the law. Sadly, that is not necessarily the case. The CDC's transportation branch has calculated that in 2017 alone, almost 6,000 people lost their lives in pedestrian accidents across the country. If this was not worrisome enough, close to 140,000 pedestrians required treatment in emergency departments due to non-fatal injuries.
Brown & Gessell Are Your Pedestrian Accident Lawyers in Stockton, CA
If you or a loved one have suffered injuries in a pedestrian accident in Stockton, the personal injury lawyers at Brown & Gessell are uniquely qualified to handle your case because we are intimately familiar with the city's courts, judges, and staff in this region and throughout Northern California.
Lawyer Douglas A. Gessell was raised in San Joaquin County and has represented accident victims in Stockton for the past 12 years. Lawyer Steven L. Brown has raised his family for the last 20 years in the County and is the past President and a member of the Board of Directors of the San Joaquin County Bar Association and a past member of the American Inn of Courts. Their familiarity with the streets, highways, waterways, and neighborhoods allows them a very personal insight into the area where your case arose. Start your pedestrian Stockton personal injury case with an advantage.
Get Legal Help Now
When a motorist fails to use reasonable care while driving a car or truck and a pedestrian is injured, the driver is liable for those injuries. Responsibility for an accident requires analysis by a competent attorney who understands pedestrian accident laws. The car accident attorneys at Brown & Gessell knows these laws and is ready to hear about your case. Schedule a consultation with a Brown & Gessell lawyer and tell us your story. Our attorney will suggest the best defense to help you get the compensation you deserve for your pedestrian accident.
Frequently Asked Questions
Who will pay for my medical treatment?
There are several ways for pedestrian accident victims to pay for medical treatment for their injuries. These include:
Private Health Insurance: Your private health insurance is required to cover the cost of treating injuries sustained in a pedestrian accident. However, if you file a personal injury lawsuit and have received medical treatment paid by the health insurance company, you may be responsible for reimbursing that health insurance company for all or part of the cost of that treatment depending on the outcome of the pedestrian claim.
Government Health Insurance: If you don't have private health insurance, the state or local government may have programs available to assist you. These are generally reserved for children and those with limited financial resources. If you receive government assistance for medical bills, you may be required to reimburse the government for all or part of the cost of medical treatment, depending on the outcome of the pedestrian accident claim.
MedPay: In some cases, your car insurance policy or that of whoever caused the accident may have MedPay coverage, which may include a predetermined amount for the treatment of injuries. This coverage is usually available immediately after the pedestrian accident and does not apply based on the fault of the respective parties.
Medical Lien: In some circumstances, a medical provider or financing company may provide or pay for your medical treatment and wait for payment until the pedestrian personal injury lawsuit is settled. This arrangement is common with chiropractors and physical therapists.
Out-Of-Pocket: As the victim of a pedestrian accident, you may have to pay for some of the cost of medical treatment in the form of copayments or for prescription medication. Keep all receipts and other proof of out-of-pocket expenses to ensure reimbursement.
What if I don't recover fully from my injuries?
There is always a possibility that you may not fully recover from the injuries sustained in the pedestrian accident, particularly in more severe accidents. In such cases, there are several ways in which you may be compensated for residual health issues related to the pedestrian accident:
Future Medical Expenses: Any settlement or verdict may include an award for future medical expenses. This is designed to cover the cost of future medical treatment, procedures, and medication-related to the pedestrian accident. To qualify for this award, you must prove that you may need these funds in the future.
Lost Wages: If your injuries prevent you from working or will limit your ability to work, you may be entitled to compensation for the loss of future wages. In this case, the victim must also prove that it is more likely than not that this will be true.
Pain and Suffering: If you continue to suffer pain and limitations due to the injuries sustained in the pedestrian accident, you are entitled to compensation for future pain and suffering. This amount will depend on the nature of the pain and suffering and its expected duration.
Can I be compensated for the time I miss from work?
Yes. After a serious pedestrian accident, you will likely miss work while recovering from your injuries and are entitled to receive payment for the wages and benefits lost because of the negligent driver. This holds true even if the employer or some other source pays you during the time of disability or if you use sick or vacation time to cover the missed days.
What if I cannot return to work?
If the injuries you suffered in the pedestrian accident are so serious that returning to work is not an option, the negligent defendant is required to pay your wages and benefits to the end of your employment life. It is necessary to call upon expert doctors who can testify to the cause and extent of the injuries. It may also be necessary to hire a vocational rehabilitation specialist and an economist to talk about employability and the amount of money you have lost. If you can return to work with modifications to your usual work, the negligent driver must compensate you for loss of earning potential.
Will I be compensated for the pain?
In most cases, a pedestrian injured by a negligent driver is entitled to compensation for their pain and suffering. However, there is no set formula for determining how much you will receive. Many factors may influence this amount, including the extent and duration of your injuries, the amount of medical care required to treat them, their impact on your life, the frequency, duration, and intensity of the pain, and your condition before the accident. If you and the negligent driver cannot reach a settlement, a jury will be required to weigh all the evidence and determine how much money will compensate you fairly.
Should I deal directly with the insurance company?
Insurance companies have only one goal: to keep their money by limiting their pay to people injured by their client's negligence. They hire professional adjusters and defense attorneys to accomplish this goal. Never talk to the negligent driver's insurance company or sign anything until you have consulted with a Brown & Gessell attorney. It is important to have someone on your side who has experience in the legal field and dealing with insurance companies. You can focus on your health by hiring our attorneys and leave the complex personal injury litigation process to an expert.